9/22/09
White Oak Motorsports
National Guard Car 54
Driver: Mark Fox
Co-Driver: Jake Blattner
For Immediate Release:
Rookies Fox and Blattner driving the 54 National Guard Car tie for third at Rally Colorado.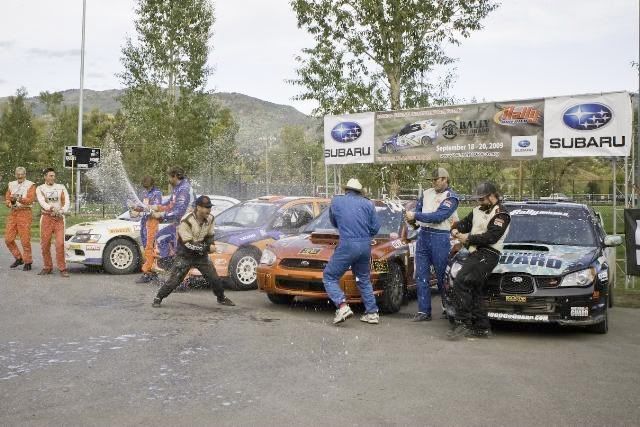 The eighth round of the Rally America Championship Series came down to a tie-breaker for Fox and co-driver Blattner in the 54 National Guard Rally Car. After 1:35:46.0 of racing, the team in an unbelievable result, tied the time of Nathan Conley and co-driver Todd Moberly. Rally America rules decided the finish giving the overall result to the team with the most individual stage wins. This left Conley and Moberly with third and Fox and Blattner with a fourth place national result. None the less, this is the first podium finish for the two who were happy to share the spotlight after such an amazing race.
The team battled the inclement weather on day two with only minor mechanical difficulties and spirits were high. Conley had the lead by 35 seconds going in to the last two stages and with the slick Colorado roads a conservative approach was the plan. Fox left the final service saying " I'm going to drive to maintain our position". Somewhere on the road with the improving weather Fox and Blattner found their groove and took back the 35 seconds for the tie. "Hats off to Con-ley, he put up a heck of a race and we look forward to the rivalry that this tie is sure to start. They were a pleasure to compete against this weekend".
With the Rally America Rookie of the Year honor within reach, the team now sets sights on the Lake Superior Performance Rally for the final race of the series.
Thanks to our sponsors:
The National Guard
Ace Hardware
Rockstar Energy Drink
White Oak Development
Contact: John Hindman
johnhindman@hotmail.com
Posted under Uncategorized
This post was written by mattox3 on September 23, 2009